Entrepreneurship
Startups play a fundamental role in transforming the food system. EIT Food supports innovative impactful agrifood entrepreneurs and startups to deliver new food innovations and businesses across Europe.
The world's largest agrifood ecosystem driving innovation and entrepreneurship
Innovation in the agrifood sector is worth more than €200bn across Europe, yet less than 4% of all EU startups are innovating in the agrifood sector. This figure needs to radically change if we are to meet the UNSG goals to feed a growing population over the next decade. A focused and collaborative industry-wide approach is a must.
As a designated EU body, EIT Food is in a unique position to bring entrepreneurs together with Europe's leading agrifood companies, universities and research organisations. Startups need funding and collaborations to scale, corporates need agility and innovation to stay relevant, investors need companies and teams with high revenue potential to create global impact.
We are building a powerful ecosystem to facilitate training programmes, world-class networking, high-impact pilot projects, and a community supporting entrepreneurs at all stages of their journey.
Building your own startup?
We've created a free online manual with industry experts to help you build a thriving agrifood business.
LAUNCH - Seedbed Incubator
TURN YOUR INNOVATION INTO IMPACT
The EIT Food Seedbed Incubator is a 4-6 month market discovery programme offering equity-free funding, industry connections, and specialist training & support, for researchers & aspiring entrepreneurs to commercialise ag & food tech innovations that have the potential to transform the food system.

ACCELERATE - EIT Food Accelerator Network
TECH VALIDATION AND BUSINESS ACCELERATION FOR A SUCCESSFUL MARKET ADOPTION
EIT Food Accelerator Network is a 2-4 month, Pan-European, theme-based and cohort-style programme, delivered in 5 unique innovation hubs. The programme has been designed for (pre) seed funded agrifood startups, looking to grow their network, validate their technology and further advance their commercial investment-readiness to drive the ultimate business goal: a successful market adoption.
SCALE - RisingFoodStars
SCALE YOUR COMMERCIAL CAPABILITIES TO LEAD THE FOOD SYSTEM TRANSFORMATION
RisingFoodStars is empowering aspiring scaleups to expand beyond their current market(s), raise funds and gain new commercial partners. The programme lasts up to three years and you can go through company audit, personalised coaching, exhibit at international fairs and much more. We are looking for leaders and impact-driven ventures with innovative technology that are ready to grow.
EIT Food Entrepreneurs
By joining our community, you can get involved with all the various startup training and events happening throughout the year. We will notify you when programme applications are open, and once you are part of our ecosystem, you will gain access to an inspiring global network of talented people and impact-orientated organisations on a joint mission to transform the food system.

What are you waiting for? Start your journey today!
Companies supported by EIT Food from early entrepreneurs to companies that we support in scaling internationally
Jobs created in supported startups
Direct financial support in grants & investments in 2020 - including directly supporting those through Covid-19
External investments attracted by supported startups
Entrepreneurship programmes
entrepreneurship programme
Training, mentoring, business coaching and networking opportunities for women entrepreneurs in the agrifood sector. Applications are open!
entrepreneurship programme
Creative workshops designed to find solutions to current and future challenges in the food and agriculture system
entrepreneurship programme
Get matched with a farmer and test your solution on the field!
Latest entrepreneurship news
The 2023 Entrepreneurship Programmes provide targeted support to European startups at all stages of the innovation journey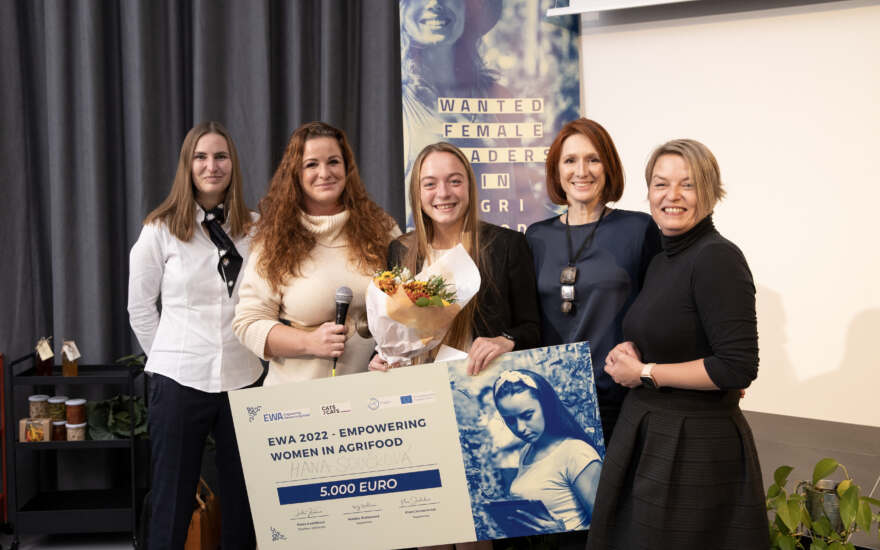 Everyone stands to benefit from a transformation to a more equitable food system. International Women's Day is a great opportunity to celebrate women leaders driving positive change.