Women in Agrifood Summit closes the EWA programme by bringing together agrifood professionals, entrepreneurs and experts from 15 nationalities
The closing ceremony took place in the BAT | B Accelerator Tower in Bilbao, a key point for startups, companies, investors and technology partners. The event was also followed online, reaching more than 100 professionals in the sector.
05 Dec 2022
EIT Food South
On 1 December, the Women in Agrifood Summit took place in Bilbao, a unique meeting to close this year's edition of the EWA - Empowering Women in Agrifood programme.
The event, which was held in a hybrid format, brought together more than 100 people (face-to-face and online) from 15 different nationalities. Women entrepreneurs, high-level speakers, investors, experts and innovators from the agricultural and food industry gathered at the BAT | B Accelerator Tower, which became room for celebration not only for the participants of the programme but for all the attendees, who were able to connect and share experiences.
Throughout the Summit we had the opportunity to enjoy inspiring talks, presentations of some of the entrepreneurs' projects and remarkable round tables led by experienced professionals in the sector.
The celebration began with the institutional opening, led by Begoña Pérez Villareal, Director at EIT Food South and Ainara Basurko, Provincial Deputy for Economic Promotion. Also, Mariya Gabriel, European Commissioner for Innovation, Research, Culture, Education and Youth sent an awareness-raising message, conveying the importance of supporting women-led startups, as part of the European Innovation Agenda. She also acknowledged the work of the EWA programme that "benefits more than 100 women annually, including from areas with little access to other business acceleration opportunities and trainings".
The first keynote speaker of the event was Anne Ravanona, an outstanding TEDx & Keynote Speaker who is also CEO & Founder at Global Invest Her, Women's Advocate, EU Delegation Member to W20 and Strategic Consultant on Gender Equality.
With a stimulating and motivating speech, she encouraged our EWA leaders to "leave their fears aside and dare to ask for more money", which is essential for the development of any business. She put investors and women entrepreneurs on the same level, calling them "peers, a business person speaking to a business person about a business opportunity".
Besides, she motivated women entrepreneurs to find their tribe, underlining the need to find the people that understand them, in the rollercoaster of emotions and phases that is the entrepreneurial world.
Biz4Change
In this final closure event we had the opportunity to witness some amazing business ideas that our women leaders from various countries developed during this edition. Divided into three thematic blocks, sustainability, healthy food and digital solutions, the entrepreneurs proofed their personal and professional growth, who each presented their pitch with ease.
Guiomar Sánchez Carrión (BioProcesia), Aistė Balčiūnaitienė (Biofita), Sena Tarım (Biopols), Gracija Požar (P.H.B.), Rosália Costa (Zesty), Katie Harrison (CULT Malta), Susanna Graziano (Mindful Morsel), Eleni Aikaterini Zotou (Golden Tree), Jane Dimitrova (Foodobox), Ilze Laukalēja-Broka (Baltic Senses) and Anna Skořepová (Foodpioner) were proof of EWA's impact and put a face to all the hard work and effort made over the last 6 months.
"I do distinguish between agritech and foodtech"
In addition to keynotes and project presentations, the summit hosted two round tables that provided interesting insights on the agrifood and entrepreneurial ecosystem.
The first panel, "Being a Founder: How Women Entrepreneurs Are Changing the Agrifood Systems", was moderated by Aleksandra Niżyńska. Senior RIS Project Manager and Diversity & Inclusion Officer at EIT Food, who hosted Roni Eiger, Partner at theFoodTechLab (TFTL) & Angel Investor, Sara Roversi, Founder at Future Food Institute and Josune Ayo, CEO & Co-founder at Genbioma Aplicaciones SL.
The panelists discussed about the specificities of agritech and agrifood sector, what makes these two fields so challenging for women startups, and the differences between them. Also, they reflected on how to encourage women with a scientific background on the field of agrifood to take the step into the entrepreneurial world.
"When talking about inclusion we are talking about giving them a voice not just adding them into the meeting"
The second roundtable addressed the European Union's innovation divide. Tamás Muller, Co-founder at Pozi.io and founder of Women Startup Competition, Miro Hegedić, Founding Board Member at Lean Startup Croatia, Samanta Peña, Partner & Head of Innovation Programs at Naked Innovations and Uyen Vu Thi Phuong, Researcher at the Malta Colleague of Arts, Science and Technology (MCAST) shared their thoughts with the audience, moderated by Elvira Domingo, RIS Programme Manager at EIT Food South.
They tackled the question of why investors still reluctant when making their investments in women-led startups within each specific cultural background. The panelists also discussed about inclusion, diversity and how does it help the agrifood sector to perform better.
To close the event, Mariela Glandt, Medical Director at Glandt Center for Diabetes Care and Co-founder of Eatsane, shared with the audience her experience and her mission of helping people preventing diabetes through food sovereignty.
The closing was in charge of Lara Rodríguez, EWA leader and RIS Project Manager at EIT Food, and Aleksandra Bara, Project Manager at EIT Food North-East. They emphasized the importance of being brave and congratulated the EWA participants for this bravery throughout the programme's journey.
More News from EIT Food South
Microhobist and Palgae led the way as champions in the 4th edition of EWA Programme in Türkiye
Both startups have been supported by EIT Food, as they have participated in the 2022 edition of the Food Accelerator Network (FAN) Programme.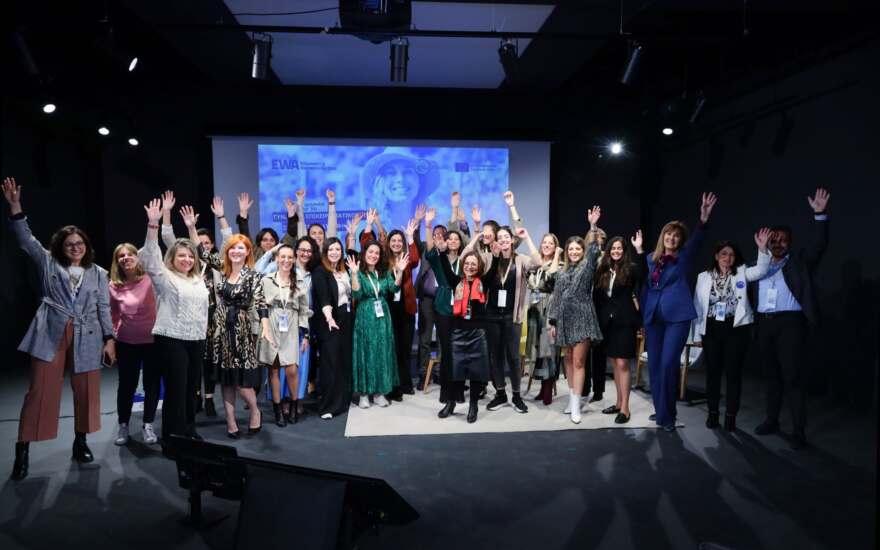 Eirini Christina Spanouli, Angeliki Drakou, and Anastasia Kritikou stand out amongst Greek innovators in the third successful edition of EWA in Greece, marking the programme's fourth overall iteration.