EIT Food accelerates innovation to build a future-fit food system that produces healthy and sustainable food for all.
Community news and insights
We are looking for products or services which have been developed in part of, or in full, as a result of engagements with EIT Food. We will award a prize of €10,000 for the best marketed innovation and up to twenty prizes of €5,000 for…

The role of food packaging in creating a more sustainable food system

Want to work with us? This can be in many forms ranging from contracts, procurements, open calls and so on. Check out the active ones here below!
The world's largest and most dynamic food innovation community
We create connections right across the food system that stimulate new ideas and innovations to drive change: between startups and corporates; between food entrepreneurs and investors; between consumers and industry; between research and action; between ideas and reality; between present and future.

Our focus for impact
Supported by the EU, we invest in projects, organisations and individuals that share our goals for a healthy and sustainable food system.
Our innovation projects are delivered with a combination of industry, education and research partners to improve environmental and health outcomes by developing solutions in the most promising food innovation areas:
Join the community
We connect stakeholders right across the food system to drive change through collective learning, problem solving and invention.
Latest EIT Food news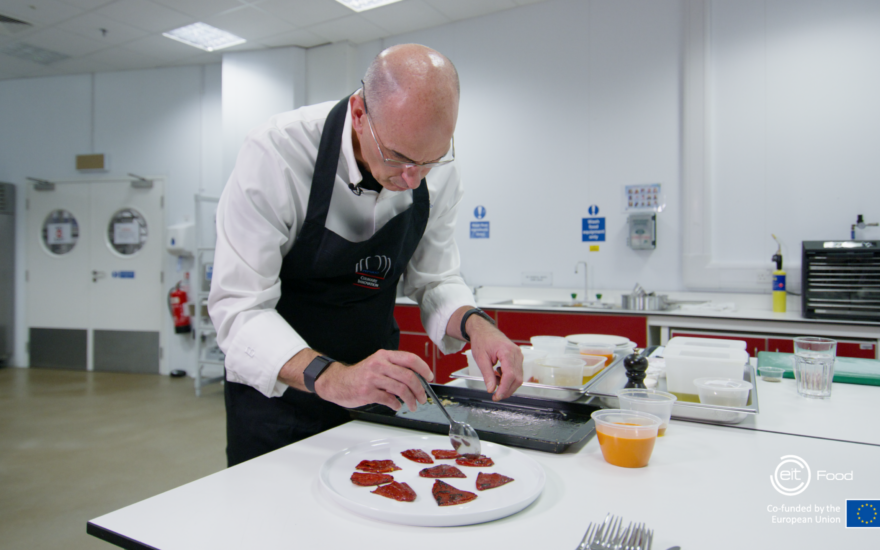 In this blog, we talk to a research and development chef at PepsiCo who creates new flavours and foods to be sold in supermarkets worldwide.
As we look ahead to another year, we have combined insights from EIT Food - the world's largest and most dynamic food innovation community - to collate the top 5 European food trends in 2023.
Nathalie Berezina, Founder and CEO of Norbite, describes their unique approach of turning plastic waste into sustainable goods with their…
Marc Bolard, Co-Founder of Nasekomo, highlights how using sustainably farmed insects across our food system, could be an efficient way of…
Upcoming EIT Food events