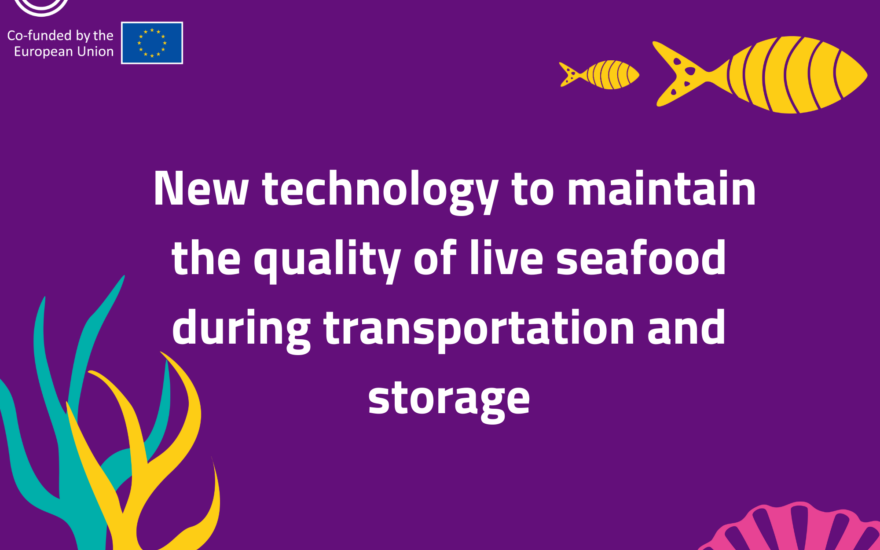 New technology to maintain the quality of live seafood during transportation and storage.
An EIT Food funded project adapted recirculating aquaculture systems (RAS) technology for fish production to create a water treatment solution that cleans and recycles water. It does this with zero-discharge to maintain the welfare and quality of live seafood during extensive transportation and storage.
14 Aug 2023
EIT Food West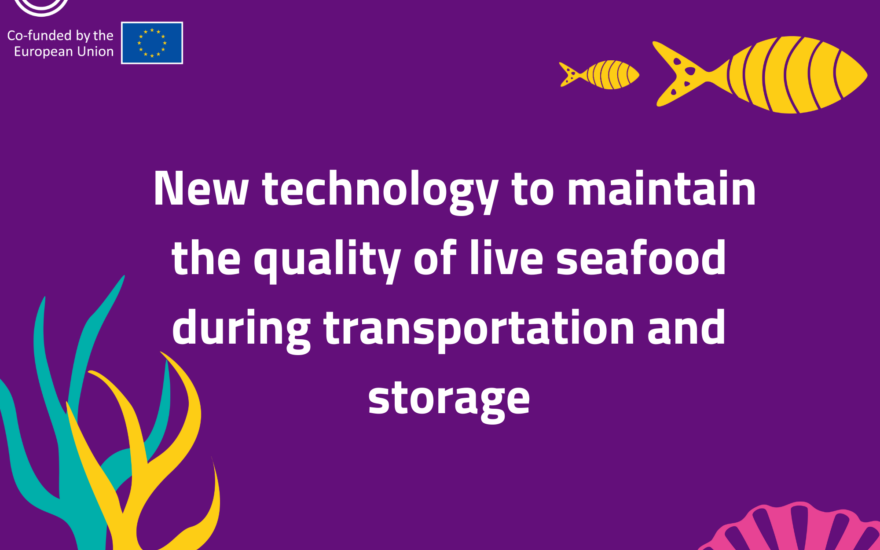 What will you learn?
In this case study you will learn about:
The challenges and current limitations associated with transporting and storing live seafood from the producer to the market.
Why adopting RAS technology provides a logical, applicable solution, that supports a sustainable supply chain.
The features and benefits about next generation RAS technology developed during this EIT Food supported project.
Many seafood producers are looking to expand their geographic reach to new markets, while improving their profitability. We introduce a new zero discharge water treatment technology that supports seafood welfare and product quality during long-distance, long-duration ocean transportation.

The challenge – transportation and storage of live seafood is severely limited due to the accumulation of toxic metabolites in the water
Many seafood species including shellfish such as lobsters, oysters, crabs and clams are sought-after premium products worldwide, and revenues obtained from selling live products rather than chilled fresh products or frozen are significantly higher (1).
Air, ocean and terrestrial transportation and storage of live seafood is often required as part of the food supply chain. However, current technologies are not sufficiently sustainable, meaning that most live seafood is inaccessible for many potential customers and markets worldwide.
With current technologies, live seafood needs to be delivered within 24 hours from its port or producer, with only a small fraction being shipped for longer periods, between 1-10 days (1). In such cases live seafood can only be stocked at low densities which increases the cost per kilogram transported and it suffers from high mortality rates with product quality losses arising from prolonged transportation and storage periods.
The main reasons for poor viability and seafood deterioration are the accumulation of toxic metabolites, especially non-ionic ammonia (NH3), in the water during transportation and storage and an increasing microorganism burden, even at low temperatures (2).
Furthermore, as part of the livestock maintenance schedule, transportation systems often need to discharge water effluent into the surrounding natural water bodies, resulting in pollution and environmental damage.
The solution – next generation patented technology adapted from RAS for prolonged high-density seafood transportation
Novel self-contained, zero-discharge systems were developed for live seafood transportation and storage which are based on a physico-chemical water treatment technology that is currently used in RAS for fish production. The patent protected technology was adapted to ensure high-density seafood stocking and autonomous operation enabling a longer transportation duration i.e., > 4 weeks without affecting the product quality. This technology can be readily tailored to work with different seafood species, quantities, and time periods, along the entire supply chain from producer to the consumer.
Approaches to developing next generation RAS technology for live seafood transportation and storage
Several bacteria-based, biological water treatments have been developed and used successfully in seafood production systems. However, these do not function at the low water temperature (2-5oC) required for transportation including shipment of fin fish or shellfish which serves to reduce the livestock's metabolic rate. For this reason, the EIT Food funded project adapted a reliant and robust physico-chemical water treatment approach that operates independent of the rearing water temperature.
The new technology was designed to:
Remove all toxic ammonia metabolites from the water.
Control the growth of microorganisms through disinfection.
Maintain other water quality parameters such as pH, oxygen, carbon dioxide, to enable transportation of live biomass for a prolonged period with a high density of livestock.
How the technology works:
A fraction of the rearing water from the live seafood transport vessels is separated several times a day.
It is then treated (electrolysed) in a separate reactor to generate active chlorine, which oxidizes ammonia into inert nitrogen gas, in parallel the active chlorine serves to kill microorganisms thereby disinfecting the water.
The treated (electrolysed) water is then dechlorinated and pumped back to the holding tanks through activated carbon filtration, which removes traces of both chlorine residuals and fine organic matter/ particles.
This water treatment process is repeated with a new batch of water, as required, to maintain the ammonia concentration at a safe prespecified value.
Project results
The aim of this EIT Food project was to develop a zero-discharge water treatment system that would enable transportation of live seafood over a minimum of 30 days, which is over twice the duration of currently available transportation, at biomass loads up to two times greater than currently practiced.
Both lab and field trials to test the effectiveness of the new RAS adopted technology as a water treatment were carried out during transportation of a range of seafood species (1,3). The survival rates and organoleptic characteristics i.e., colour, taste, smell and texture were monitored together with the composition of the transportation water.
Overall, the results demonstrated the improved survivability of a wide range of seafood species including arctic char, brown crab, sea urchins and scallops over long distance and duration transport.
Project outcome and commercial future
The successfully developed zero-discharge water treatment technology is now available on the market via the Israeli company Biofishency Ltd. and can be readily tailored to meet the physiology demands of a wide range of different seafoods species during prolonged transportation.
Societal, economic and environmental advantages of the water treatment technology
Reduces seafood fraud through intentional substitution of species leading to more trust in the food system.
Expand markets e.g., the United States and Far East are the largest markets for shellfish, however it takes sea freight 12–18 days to travel from Europe to North America or to China, therefore practically, the primary shellfish markets are not currently available to European live seafood produce.
Economic analysis suggests that by reducing livestock mortality during transportation the adapted RAS technology has the potential to significantly increase the profitability for seafood producers and retailers and to decrease the price of live seafood to the consumer.
Reduces GHG (greenhouse gas) emissions. Approximately 20% of all fisheries products are estimated to be transported by air, therefore, switching air freight with ocean freight potentially reduces carbon dioxide emission by as much as 97%*. Furthermore, air freight employs non-biodegradable polystyrene packaging which would be minimized by switching transport mode.
Reduces food waste caused by expiration of the live and fresh seafood that accounts for 5-20% product loss*.
The zero-discharge technology cleans and recycles water substantially reducing waste generation and pollution.
*Data calculated by the project team
About the project consortium – a powerful combination of complementary knowledge, skills and capabilities
Technion- (Israel)
Technion, Israel Institute of Technology, is a science and technology research university dedicated to the creation of knowledge and the development of human capital and leadership for the advancement of Israel and mankind. Technion is a global pioneer in both traditional and novel engineering fields, e.g., biotechnology, space, CS, nanotechnology, and energy.
Matis (Iceland)
Matís supports value creation, public health and food safety in strong cooperation with a large group of partners, both from the public and private sectors, national and foreign. Through research projects, which are the most extensive part of activities, Matis works on large and varied challenges with its partners.
BioFishency (Israel)
BioFishency develops, manufactures and markets disruptive electro-chemical and biological aquaculture water treatment solutions for Recirculated Aquaculture Systems (RAS).
Ocean Perfect (Netherlands)
Ocean Perfect offers an advanced, patented logistic solution for transporting and stocking live seafood. This solution is a sophisticated system containing a container and multiple tanks, called SSU's (Serve the Sea Units) with a filtration and oxygenation system.
Related
Sustainable Development Goals
More News from EIT Food West
An EIT Food funded project transformed organic waste streams into, a valuable, next generation sustainable aquaculture feed ingredient called METAFEED Alpha.
An EIT Food funded project utilised a novel cutting-edge technology to harness the power of clean energy sources and natural carbon dioxide (CO₂) for the cultivation of microalgae as a sustainable source of ingredients for the aquafeed…
An EIT Food funded project converted aquaculture organic waste streams into sustainable, algal-based microencapsulated feeds for bivalve shellfish.