RIS Innovation Prizes is one of the largest startup competitions in the agrifood vertical in Southern and Eastern Europe. The competition is designed for entrepreneurs and early stage agrifood startups who can help transform our food system, making it healthier, more sustainable and more trusted.
On November 10, Innovation Prizes competition concluded with the Grand Final in which 17 finalists competed for the prizes of €10,000, €15,000 and €25,000.
The Final was judged by a panel comprised of top agrifiood experts and investors: Thomas van den Boezem (Business Creation and Investment Manager at EIT Food), George Coelho (Partner and co-founder at Astanor Ventures), Marcin Czarnecki (FMCG Food industry expert) and Michela Petronio (Vice President at Blu1877).
The jury had an extremely difficult task of choosing three winners among 17 excellent finalists. Here are three innovative companies who, in jury's opinion, develop most promising and impactful solutions for the food system:
1st Prize – €25,000
SoluBlue is an innovative food packaging material that extends shelf life and is also fully biodegradable. Additionally, in SoluBlue packaging, food does not rot but gradually dries over months, providing a second life for fresh food in cooking, or as animal feed. Our packaging is also home compostable, biodegrading as quickly as the food it contains.
Our next step is to conduct market tests with food producers and retailers on extending shelf life and compostable aspects of our solution.
2nd Prize – €15,000
Microbe Plus company developed a bioproduct which protects plants from pathogens and at the same time stimulates its growth. It is an activator for plants. The multi-strain combination of beneficial microbes significantly improves plant health. We offer tailor-made biological solutions designed to minimize losses in key crops caused by the presence of pathogens and maximize farms profitability. Thanks to our eco-friendly bioproduct, farmers can decrease the use of synthetic pesticides and fertilizers.
Our goal is to offer farmers safe, environmentally friendly, and affordable bioproducts for plant protection. Thanks to that farmers can provide safe and nutritious high-quality food to consumers. For the next season we are planning field experiments on major crops in order to optimize our bioproduct.
3rd Prize – €10,000
Thermosolar Hive is a unique beehive and therapy device utilizing sunshine to solve the biggest honeybee problem. Beekeepers can stop using chemical treatment and produce honey without residues. Moreover the hive support the colony, colonies becomes stronger and this significantly increase honey production.
What's next for us? We will build a beekeeper community around us and our ideas, digitalize our technology to provide more efficient beekeeping, increase our marketing activity and expand to selected EU markets.
Competition background
In 2020, RIS Innovation Prizes competition started with 17 country finals that took place in Bulgaria, Croatia, Czech Republic, Estonia, Greece, Hungary, Italy, Latvia, Lithuania, Poland, Portugal, Romania, Serbia, Slovakia, Slovenia, Spain and Turkey.
In each final, up to up to 8 innovative agrifoood companies competed for three jury prizes of €5,000, €3,000 and €1,000 and for the audience prize of €2,000.
The first prize winners from all 17 countries also won a ticket to the Grand Final and got a chance to receive top-class training and coaching prior to the last stage of the competition.
More News from EIT Food North & East
On November 22, 2023, in Bucharest, the closing event of the 2023 edition of the Empowering Women in Agrifood accelerator took place. The ten participating entrepreneurs showcased their business ideas and highlighted the progress achieved…
The final event of the Empowering Women in Agrifood (EWA) programme took place in Tartu on November 18th. This open event brought together representatives from the investor and public sectors, entrepreneurs, and other individuals…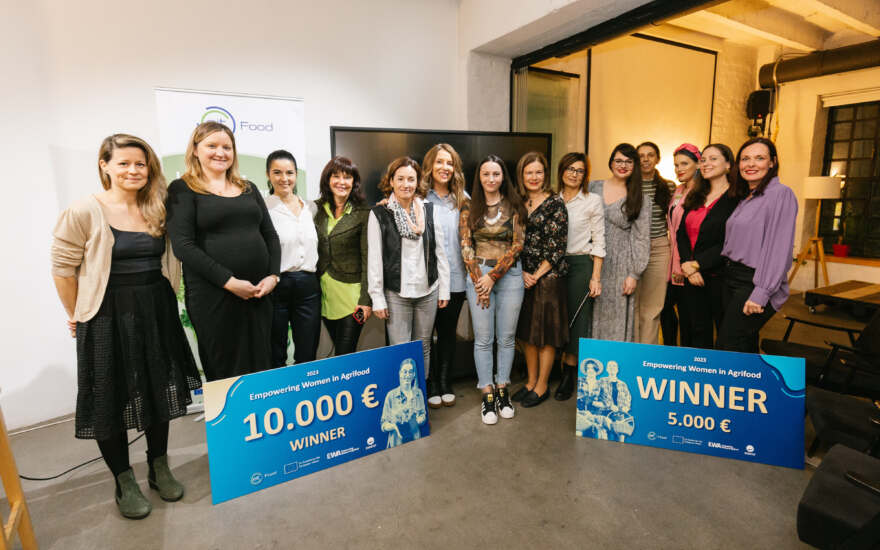 The first edition of the Empowering Women in Agrifood (EWA) programme in Serbia, organized by EIT Food in collaboration with Startit, concluded with an event at Startit Center Belgrade. During this event, participants showcased their…